Whitecoat and Telehealth
Deliver your healthcare, your way.
We're helping you connect with customers looking for telehealth consultations and sessions, wherever you are. Quickly process app-to-app payments and healthcare claims with Whitecoat Pro.
What you'll get:

Profile Telehealth booking button

60 days free app-to-app payments
Your business, better
Designed to keep your business moving
If you offer telehealth sessions and consultations, Whitecoat can help manage your profile, appointments, and payments. Ideal for Physios, Exercise Physiologists, Personal Trainers and more.
Consult from anywhere
Deliver sessions or consultations to your customers from anywhere using your phone.
App to app payments
Quickly and securely request payments from your customers using Whitecoat Pro.
Promote your business
Be listed on Australia's largest Online Healthcare Directory, and our dedicated Teleheath Directory.
Get paid quickly
Once you receive a payment, the money will be in your account the following day.
Get started with Whitecoat Telehealth
60 days fee-free
Whitecoat Pro is free for existing Whitecoat providers, with no monthly fees and no transaction fees for the first 60 days.
Not on Whitecoat? For $199 you'll have access to the above and unlimited bookings, and a listing on our dedicated Telehealth Directory.

Sign up to Whitecoat Telehealth

How it works
Process any payments, anytime, anywhere.
You can start transacting on the same day. You'll need to make sure you're registered with Whitecoat, set up your app, invite your customers and you're ready to go.
Claim and activate your Whitecoat Profile
Claim your free Whitecoat profile, and make sure you have an active Online Appointments or Practice Listing subscription.
Register as a Whitecoat Merchant
Register as a Whitecoat Merchant on our Merchant Portal, you'll need your ABN and a copy of your bank statement so we can make sure you get paid.
Download Whitecoat Pro and invite your customers
Add your Practice details, then add yourself as a Provider, you can then invite yourself to download Whitecoat Pro for iOS or Android.
Using the Whitecoat Pro app, or through the Whitecoat Provider Portal, invite your patients to download MyWhitecoat, so they can accept your payments.
Perform a telehealth consultation or service
Using Facetime, Zoom, or one of the many other video call services out there. Perform your session as your usually would.
Process the payment and claim through Whitecoat Pro
Bill your customer with their mobile number or from your contacts list (make sure they're signed up to MyWhitecoat) and request payment. Whitecoat payments handles Private Health rebates, gap payments and full service payments.
Find out more…

Submit your details below and one of our Whitecoat support staff will be in touch shortly.
Want to find out more?
Learn about our Whitecoat apps
Our payment solutions make your life easier. Whether you're managing multiple practices, starting your own business or a sole trader. We have a solution for you.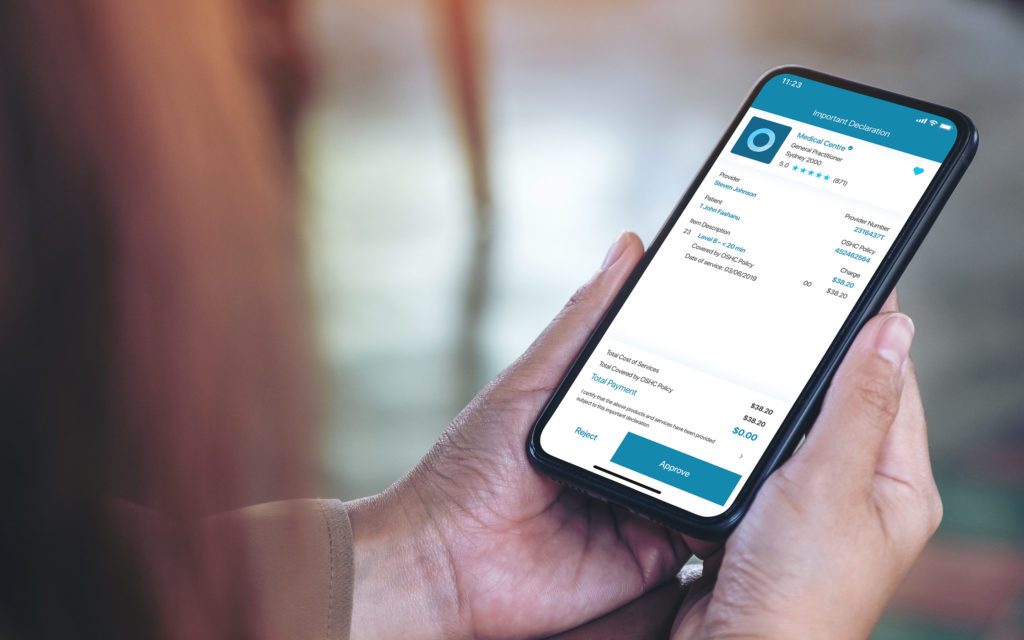 MyWhitecoat
Your customers can search, book, pay, claim, review and favourite all in MyWhitecoat.
Whitecoat Pro
No terminal, no problem. Process payments and claims from anywhere with Whitecoat Pro.
Telehealth for Providers
MyWhitecoat creates a fast, simple and secure way for you to search, book and pay for your chosen healthcare appointments.

You can use MyWhitecoat to find trusted healthcare professionals in your area, read reviews and book instantly, anywhere, anytime.

MyWhitecoat also allows you to pay and claim against your health fund – without the pain of paperwork or waiting in line.

It's fast, simple and secure and you can save your favourite practitioners in one easy to manage app.

What is telehealth?
You might be wondering what telehealth is. Put simply, it enables healthcare professionals to provide video consultations via channels like Skype, Whatsapp, Zoom and Facetime as well as standard telephone consultations. We refer to these as virtual consultations.
The federal government has recently announced new funding for telehealth in an effort to help combat the spread of COVID-19.

Do I need to be in a Practice to process a Health Fund claim?
With Whitecoat Payments, you can process payment and claims from your home, your business or anywhere. All our receipts are digitally signed and location stamped.
What security does the Whitecoat Payments Platform have?
Whitecoat's payment solution is housed in a highly secure IRAP and PCI-DSS Level 1 compliant environment.
Can I use Whitecoat Pro if I'm a Personal Trainer, Yoga/Pilates Instructor, or don't need to process health fund rebates?
Absolutely. Whitecoat Pro is designed to help you request payments from your customers, even if it's not a health fund or Medicare claim.
To do this in the Whitecoat Pro, you can process the payment as a "Stock" item. Add a description and a cost then request the payment from your customer.